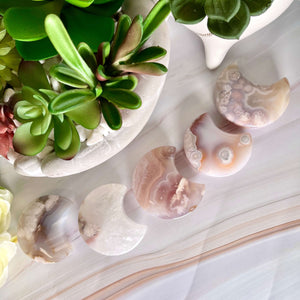 Little Crystal Company
Flower Agate Moons
Regular price
$8.00
Sale price
$12.00
Unit price
per
Natural Madagascan flower agate 
Approx 2"
Weighs about 2-3oz
hand carved
Carved crystals are individual works of art and will also bear the marks of their lapidary artisans, please appreciate the unique details of items made by hand.
One moon will be intuitively chosen for you, unless you contact me to individually choose.
Crystal Tip:
Flower Agate is a type of Plume Agate with opaque Chalcedony inclusions that resemble tiny floral formations. This mineral is found in Madagascar and has only been seen crystallized in the form of masses. It's usually found in a light pink shades with white "flower" inclusions. Flower Agate is very popular amongst craftsmen and carvers, not only for its eye-catching colors, but also for its durability. One might find this crystal cut into many forms such as palm stones, pyramids, obelisks, free forms, and even tumbled.
---
Share this Product
---