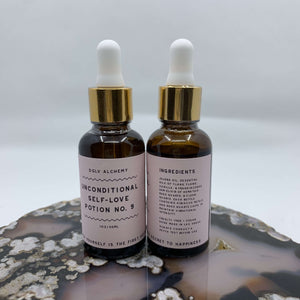 dragongemslv
Unconditional Self Love Potion No. 9
Regular price
$20.00
$0.00
Unit price
per
Hematoid Rose Quartz & Hibiscus Gem Elixir oil
Direct Elixir Method
charged In Pranic sun energy within a quartz grid 
1oz/30ml dropper bottles
Hibiscus Petals and Rose Quartz chips are in each bottle to preserve/amplify vibrational intensity.
Unconditional Self-Love Potion No. 9
Infused with the affirmation: "To fall in love with yourself is the first secret to happiness."
Hematoid Rose Quartz holds all of the properties you know and love about rose quartz with the added dimensional magnetism of hematite. The hematite adds another layer to this crystal that sort of Amps up the base frequency, this is the one you go to when things are worse than bad. Pretty much exactly like these uncertain times we live in. It is going to help you to powerfully (but gently shed those old traumas and grow fully into your new and beautiful self).
"The hibiscus flower is a divine creation made in such a way that it can absorb pranic energy into its center with force and flood it back into place. Any negatives around it will be pulled away. It is literally like Kali who pulls away negatives by her presence and like the divine trunk of Lord Ganesha. Hence Hibiscus is offered to them as it can expand the powers of 'negativity removal ' when we pray."
Hope Blend (Ylang Ylang, Frankincense, Vanilla Bean Absolute): The Oil of Overcoming. It addresses feelings of being unloved, unworthy, abandoned, and full of shame. It helps overcome emotions associated with trauma, while revealing the truth that individuals are not their story, their pain, or even their experiences.
---
Share this Product
---